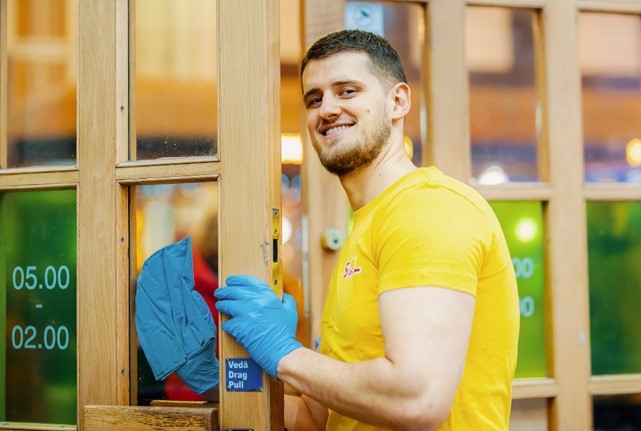 A friendly attitude is the solution in a multicultural work group
"Cleaning really is much more than just cleaning. There is a lot to learn and the work is varied.ˮ -Trim Idrizi
Trim Idrizi came to Finland from Kosovo three years ago. Trim is part of a multicultural team working to ensure that the waiting areas and office premises at Helsinki Central Railway Station are clean.
Our team is, indeed, multicultural and I like that. I learn a lot about different cultures and countries when getting to know my colleagues, Trim says.
He only has good things to say about his job, his tasks and his colleagues. He believes that kindness is a part of one's expertise and professionalism.
English as a working language, learning Finnish in the future.
In a multicultural workplace, the coworkers speak English. When Trim's English skills are praised, he laughs and replies:
I learned to speak English by watching movies. I really wasn't a hard working student. But I manage, and the more English I use at work, the better I get.
It's very important that we get to know each other and enjoy being together. It gives you the strength to do your work. In addition to speaking, it is also important to listen, he says.
Trim is currently working as an instructor. He wants to advance in his career and the opportunity to do so motivates him to study Finnish.
– At the moment, I'm studying Finnish with my Finnish colleague. When I came to Finland and started working for SOL, I started going to a language course. Soon I noticed that after a full day of work I didn't have the time or energy to go to a language course, Trim says.
It's understandable, as a year ago his baby boy was born, so in addition to work, there's now a family with small children to take care of.
Trim's spouse also works at SOL. Currently, she is on parental leave, but will return to work soon.
Living in Finland is good Trim says his family enjoys living in Finland. When I came here, I was told that Finns are very unfriendly. Now, after three years, I know that it is not true. Finns are very friendly. They may be quiet and usually will not engage in small talk, but that does not mean that they are unfriendly.
In his home country, Trim worked in sales. The cleaning business has surprised him by its diversity.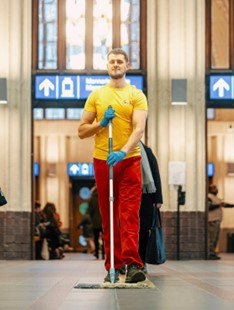 Cleaning really is much more than just cleaning. There is a lot to learn and the work is varied. When I started, I thought cleaning was simple and easy, but that's not the case. As an instructor, I have a little more responsibility for my work. I like it because I want to improve and learn new things, he says.